With the start of summer knocking at our door, it means more time spent outside, BBQ's, farm fresh fruit & veggies, and of course fun new cocktails for Mom & Dad! We've rounded up a list of 7 fun (and easy!) Summer Sips that will refresh your pallet, with ingredients you probably already have in your home!
---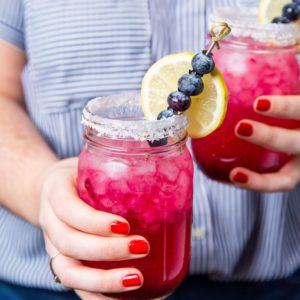 1 – BLUEBERRY LEMONADE MARGARITAS from Delish
INGREDIENTS
FOR THE SYRUP
1/4 c. granulated sugar
1/4 c. water
1/2 c. blueberries
Zest of 1/2 lime
FOR THE MARGARITA
2 tbsp. granulated sugar
2 tbsp. kosher salt
1 lemon, cut into wedges
8 oz. tequila
4 oz. triple sec
1 c. lemonade
Ice
DIRECTIONS
In a medium saucepan over medium heat, combine sugar and water and stir until sugar has dissolved.
Add blueberries and lime zest and bring mixture to a boil.
Reduce heat and simmer mixture until blueberries have burst, about 5 minutes.
Remove from heat and let cool 10 minutes, then strain mixture into a clean jar.
Let cool completely.
On a small plate, stir together sugar and salt.
Rim each glass with a lemon wedge, then dip in sugar salt mixture.
Divide tequila, triple sec and lemonade between 4 glasses. Fill each glass with ice, then top with blueberry syrup.
Garnish with a lemon wedge to serve.
---
2 – PEACH BOURBON ARNOLD PALMER from Kennilworth & Co.
INGREDIENTS
1 whiskey ball
1 part lemonade
1 part iced tea
1 tsp simple syrup
1 ounce bourbon
1/2 ounce peach liqueur
1/2 of 1 peach- sliced
1 mint sprig for garnish
DIRECTIONS
Pour tea, lemonade, simple syrup, bourbon & peach liqueur over ice ball in a rocks glass
Stir
Add several peach slices into drink
Garnish with mint sprig – enjoy!
---
3 – BLACKBERRY MINT JULEP from The Toasted Pine Nut
INGREDIENTS
12 oz. fresh blackberries
2 tablespoons water
1 1/2 oz. agave nectar (honey or maple syrup works too)
5 leaves fresh mint + mint for garnish
1 1/2 oz. bourbon
ice
DIRECTIONS
In your blender, blend the blackberries and water.
Use a metal strainer to strain the juice into a bowl or cup.
In a large glass with a thick bottom, put your sweetener. I used agave nectar, but you could also use honey, maple syrup, simple syrup, whatever you prefer.
Add the mint leaves to the glass.
Use the muddling wand (no clue what it's actually called) to press the mint leaves and twist a bit to release the oils and bring out the minty flavor.
Add the bourbon to the glass.
If you want, you can also add lime juice. I forgot to add it in the video, but I think it'll make a nice addition!
Finally, add the blackberry puree to the mixing glass and stir it well until super combined.
Add crushed ice to your individual glasses.
Pour the drink over the ice and top with additional berries and mint leaves for garnish.
---
4 – TABERNACLE CRUSH from Patterns and Prosecco
INGREDIENTS
1/2 large peach, sliced
6 small basil leaves, plus more for garnish
1/2 ounce fresh lemon juice
1 1/2 ounces gin
1 ounce Lillet
1/2 ounce simple syrup
Ice
Club soda
DIRECTIONS
In a tall glass, muddle the peach with the 6 basil leaves and the lemon juice.
Add the gin, Lillet and simple syrup.
Add ice cubes and top with club soda.
Garnish with basil.
---
5 – PALOMA TEQUILA COCKTAIL from The Spruce Eats
INGREDIENTS
2 ounces tequila (blanco or reposado)
1/2 ounce lime juice (fresh)
4 ounces grapefruit soda (or enough to fill the glass)
Optional: salt (for rim)
Steps to Make It
Gather the ingredients
DIRECTIONS
If desired, rim a collins glass with salt. Begin by wetting the rim with a lime wedge, then roll it in a small dish of salt.
Fill the glass with ice and add the tequila and lime juice.
Top it off with grapefruit soda and enjoy!
Recipe Variations
No grapefruit soda? Pour 2 ounces of grapefruit juice and give it sparkle by filling the glass with club soda.
Once you learn to love the paloma, get a taste of the cantarito. The drink is just as refreshing and simply builds on the citrus flavor. Have an adventure with the spicy paloma. The recipe infuses Thai chile pepper into Aperol then adds it to a grapefruit juice-club soda paloma.
---
6 – TANGERINE OR MANDARIN MOJITO from Laylita
INGREDIENTS:
2 cups of mandarin or tangerine juice from about 8-10 mandarins (depending on the size)
¼ cup fresh lime juice
1 cup sugar cane juice guarapo, or ½ cup simple syrup/sugar, adjust to taste
8 oz of mint leaves
~1 ½ cups of chilled sparkling water or club soda adjust more or less based on your preference
1 to ½ cups of rum adjust to taste
Ice
GARNISHES:
Mandarin or tangerine slices
Mint leaves
Sugar to decorate rims optional
DIRECTIONS:
You can make the mojitos in individual glasses or in a pitcher. I make them in a pitcher and only add a bit of sparkling water. Then in each glass, I place ice cubes, mint leaves and fruit slices, pour the drink into the glasses and then top it off with some sparkling water.
Gently muddle or crush the mint leaves with the sugar cane juice (or sugar or simple syrup).
Add the rum, lime juice, and mandarin juice, mix well and taste.
Add sugar or rum if needed – remember than you will still add sparkling water.
Add a few ice cubes and some mandarin slices.
Then top off with the sparkling water and mix gently.
As mentioned above, to serve in each individual glass: put ice cube in the glass, then add some fresh mint leaves and mandarin slices, and pour the drink into the glasses.
Top off with additional sparkling water or club soda if needed.
Serve immediately.
Notes
Mocktail variation: To make this as a mocktail variation, leave out the rum and replace it with additional sparkling water or sparkling lemonade.
---
7 – FORSÉ (FROZEN ROSÉ) from A Couple Cooks
INGREDIENTS
1–750mL bottle rose wine (one you like to drink; we like ours on the dry side)
8 large strawberries (about 1 1/2 cups ripe strawberries, halved), plus more for garnish
1 tablespoon honey (or maple syrup for vegan)
DIRECTIONS
Open the rosé and pour 2/3 cup into a glass measuring cup; set aside for when serving.
Remove the tops of the strawberries and cut them in half.
In a blender, blend the remaining rose, strawberries, and honey until smooth and fully combined. Then pour the mixture through a strainer and into a covered baking dish.
Transfer the baking dish to the freezer and freeze at least 6 hours, or overnight. (The alcohol in the mixture will keep it a slushy texture instead of freezing solid.) Blend the mixture again until it comes to a fluffy texture.
To serve, place the blended mixture into a glass. Then pour a splash of rose into each glass (this step is important: it gives the final texture and brings in the character of the rose). If desired, garnish with strawberries and serve.