If you're hosting a New Year's Eve party this year, stocking the bar is likely a priority. But in this Instagram age, why not make the cocktail setup as beautiful as it is functional? Your guests will surely appreciate the extra effort, whether or not they're posting about it or not. We turned to Kate Bower, the Massachusetts-based lifestyle writer behind the gorgeous site Domestikated Life, for her best bar décor tips. And if you're still on the fence about whether or not you're up for hosting, consider brunch instead of a late night soirée, suggests Kate, who is mom to a toddler (read: she needs rest more than she needs to see midnight).
"We're all up early with kids, so kicking a party off in the morning makes for an easier timeline so that everyone can still head home for naps in the afternoon. Plus brunch food is so easy to prep in advance (I have a whole chapter of ideas in my new book New England Invite on brunch for inspiration), and it's a very kid-friendly menu too!  We used to throw a big, fancy New Year's Eve party every year, but once all of my friends had kids we switched it to a casual New Year's Day brunch and now it's my favorite holiday!" Cheers to 2019!
Pick a color scheme. I always start with color when I'm styling a bar. For the holidays you could go for traditional reds and greens, natural rustic tones, or clean white and metallic for a modern look. Since I have a bright pink Society Social Worth Bar Cart, it's fair to say I'm on board with the bright and colorful look. I balance the colorful pink cart with mint and emerald green to make it feel seasonal, and add in lots of black and white accents with a preppy twist.
Add holiday greens. Any bar can look festive, but holiday festive requires some elements that ring true to seasonal traditions. For me, the best way to do this is with natural greenery. You can use swags of pine in front of the bar, hang wreaths above or on the cart, or place some mini evergreen trees in pots on top of the bar. I repurposed topiaries that I've used in my house year round and given them an extra seasonal spin with big black and white gingham bows that are reminiscent of wrapped gifts under the tree.
Use cohesive bottles. A little styling trick that will make your bar look polished and picture-perfect: use cohesive looking bottles. If you ever flip through your favorite magazines you'll notice that stylists use big groupings of the same type of bottled water or wine or other drink for a clean look that fills negative spaces. I like to pick one type of wine or champagne to stock up on and fill the bar cart with. You can offer other drinks of course, but use the cohesive bottles to fill any large empty spaces on the bar for a clean look.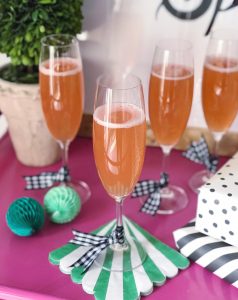 Adorn the glassware. I'm a big proponent of champagne flutes; they are the most festive glassware! Give classic pieces of glassware a festive touch by tying holiday ribbons around the base to match your color scheme. You can even use a variety of ribbon colors that coordinate with your décor to act as markers for your guests' drinks. At the end of the party just snip the ribbons off before washing the champagne flutes.
Add festive details. Update the art over your bar cart with something that is extra seasonal! I replaced the piece of art that usually sits over our bar cart with a cheeky holiday greeting scrolled out in festive calligraphy by the designers at Sip & Script. I worked with Framebridge to give the piece a stately looking custom frame in luxurious burl wood; the large white matte and frame make the piece a major statement. Another fun way to add festive details to your bar cart is to use wrapped gifts in paper that matches your color scheme. I use a stack of presents to fill in some space on the bottom of the bar cart, and used a smaller set of wrapped boxes to elevate my bar accessories on the top of the cart. All that's left to do is add some garlands, a few holiday cocktail napkins, and pop that bubbly!
For more from Kate Bower, go to Domestikated Life.