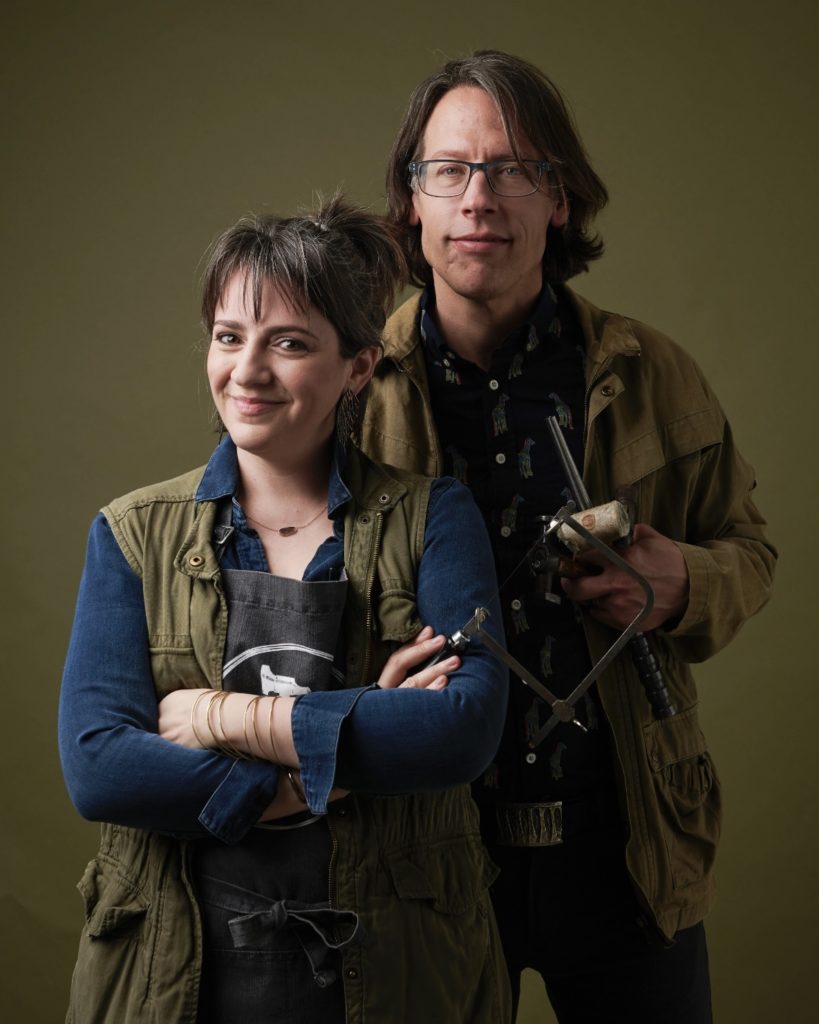 Where are you from originally and how long have you lived in the area?
I'm a Morristown native! We spent nearly a decade wandering the US with a stint on an island called Mustique, traveling to art fairs and working as artisans. We ultimately returned to make a home in Mount Tabor, a village a few miles away from Morristown. This part of the world, and the roots of home, have such an energizing and inspirational effect on me.
Child(ren) and Age(s)?
My daughter Laurily is 11.
Are you involved in a business venture or corporate world? Please Share!
Merzatta is a business venture that's also a passion project and a creative calling. We spend our days making and sharing beautiful objects that truly light people up, often introducing jewelry as a new form of expression and delight.
When did you decide you wanted to open your own Jewelry Line?
I've always been a creator, and my husband and I started Merzatta shortly after we were married. I have a Masters in Metalsmithing and we had been working in architecture together. Starting out on our own meant a much smaller studio, and that chapter coincided with all our friends getting married and needing wedding rings- which was still metal and still design, just on a way smaller scale! Our own jewelry line grew out of our collections of natural objects and we find endless inspiration in buds on flower stems, incredible patterns in pinecones, even magnolia blooms turned brown.
Has art always been a part of your life?
Making and appreciating art has always been a central theme in my life and has given me energy and strength to push through some pretty difficult times. It's also given me perspective to take time, slow down and appreciate the everyday beauty right in front of me.
If you could give one tip to fellow Mom Entrepreneurs what would it be?
Don't let fear be an opportunity cost- embrace a little bit of risk while building your dreams! And, wear a watch so you don't check your phone for the time and then get pulled into a zillion other things with emails, inquiries, or Instagram.
One thing people would be surprised to know about you…
I was engaged to someone else when my now-husband proposed, a move that totally shocked us both! The unexpected spark in that moment is what started MERZATTA– a love story turned creative deep dive turned family business that we pieced together during the last recession. We started on food stamps and unemployment and an amazing swarm of scarcity, yet with such an abundance of love and no plan B. Unlike businesses who saw the boom and then a downturn, we started so small that we were able to respond, and be really excited by, tiny incremental growth. One piece of jewelry led to another, and in not too long we had a family and business we were so happy to share.
Ok 10 Fun LOCAL favorites – ready, go!
1 – Favorite thing to do with your kids?
This may sound cliche, but really anything. My daughter is my kindred spirit and I'm so lucky to share my life with hers. We'll love traveling together again when we get back to it, but in the meantime, have taken to turning walks into adventures- with our German-Shorthaired Pointer, Roxy. We also live in an old Victorian and love to sit on the warm floor heat ducts and read books together while drinking tea.
2 – Favorite coffee spot?
I love a dirty chai from The Artist Baker. And while you're there, try her macaroons and the pecan chocolate caramel tart! And, well, everything else.
3 – Favorite lunch place?
I'm a huge fan of our business neighbor Fig and Lily Garden. They have amazing avocado ganoush and some really fun modern interpretations of mediterranean classics. Sitting outside in the courtyard of with a friend can't be beat.
4 – Favorite farm to go fruit picking?
We love Riamede because it's delightfully low-key and off the beaten track, but in all honesty one of my favorite things to do is forage for wild berries on a friend's small farm near Schiff Nature Preserve.
5 – Favorite date night restaurant?
My husband has a zillion dietary restrictions, so date nights need a really careful chef who is willing to listen. I love how South & Pine takes care of us- and it's right near our working studio, so that's a bonus too.
6 – Favorite boutique?
Can I say Merzatta here? 🙂 Honestly, there are so many beautiful boutiques in our area that it would be really difficult to pick just one. But I do love Colly Flowers, Susan Bierly's Green Barn pop-up's, and, while boutique isn't exactly the descriptor, The Old Bookshop and the True Love Books pop-up, both in Morristown.
7 – Favorite spot to grab a drink?
I'm endlessly impressed with the cocktails and mocktails at Jockey Hollow and so moved with how they reinterpreted and activated that historic space.
8 – Who has the best bagels in town?
It's so hard to choose, but my go-to place is Time 4 a Bagel in Morris Plains.
9 – Best slice of pizza in town?
Pomodoro! Also right by our studio. 🙂
10 – Favorite spot for a cookie or cupcake?
The Artist Baker on Cattano Ave, of course. She has a gift that's just beyond.
This post was done in partnership with Danielle Merzatta. Be sure to follow Danielle and her amazing jewelry line on social media: