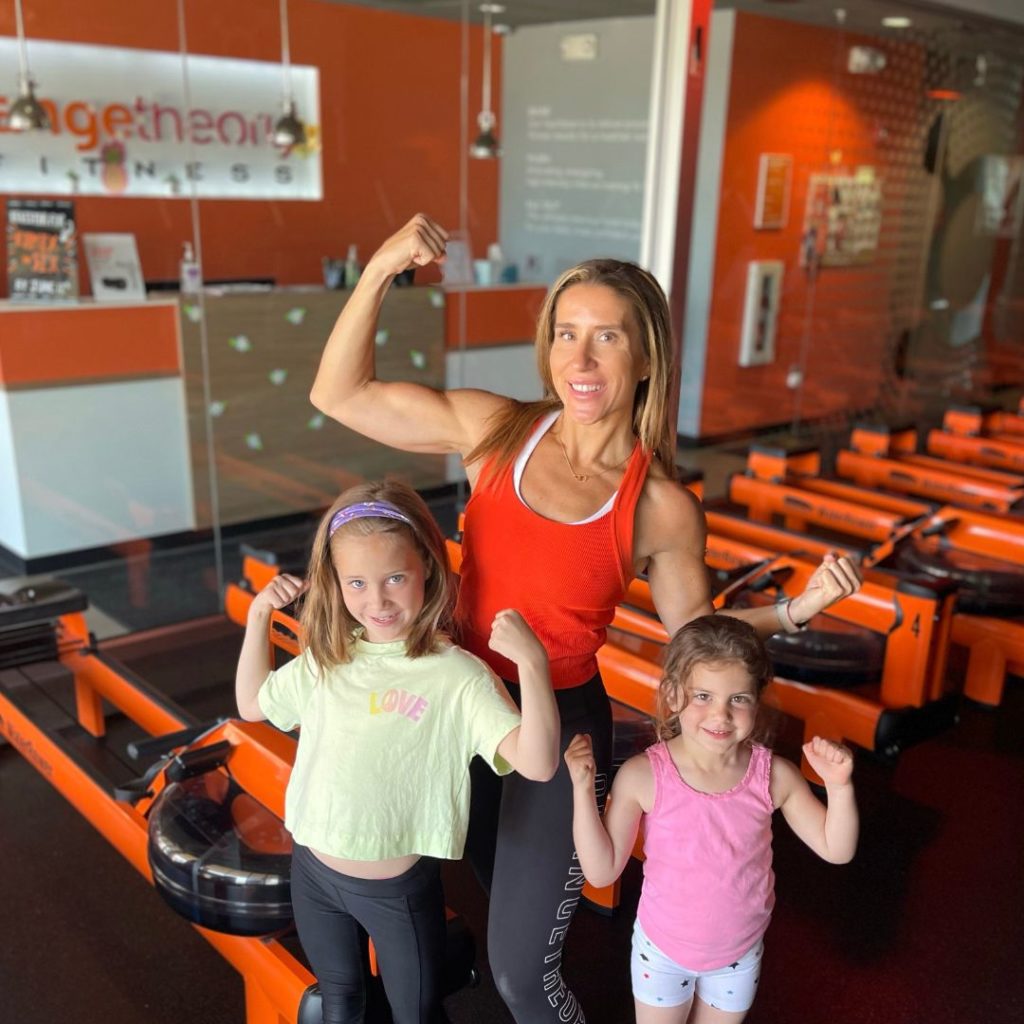 Where are you from originally and how long have you lived in the area?
I was born in Brooklyn, NY and moved to Scotch Plains when I was 4 years old. College led me to Massachusetts for 4 years but I came back to NJ when I graduated. I've lived in Basking Ridge for the past 4 years.
Child(ren) and Age(s)?
I have two daughters, Gianna (Gigi) and Margot, who are 7 and 4 years old.
Are you involved in a business venture or corporate world? Please Share!
Yes, my husband and I own Orangetheory Bedminster, Orangetheory Somerville, and coming soon, Orangetheory Montgomery, all located in Somerset County. OTF is life changing in so many ways. Not only are you guaranteed to get an amazing workout but you are also joining a community that lifts each other up and encourages you when you feel down. Once you take an OTF class you are hooked. After taking class, there is a feeling of accomplishment that is unmatched by any other workout. Your endorphins kick in and you start to plan when you can come back for more! We feel so fortunate to share the love of OTF with our community.
When did you decide you wanted to become part of The Orangetheory Community?
It was actually the summer of 2014 at a franchise expo in NYC. There was an Orangetheory booth and as we were walking the aisles looking at the more typical franchises, something about OTF caught our attention and we had a great exploratory conversation with a husband/wife franchisee. They raved about OTF, how it was backed by science, was revolutionary in it's approach to the typical small group fitness style classes, and how it was taking off nation wide. We left that day with their business card and followed up to see how we could get involved. That was the last year OTF attended the franchise expo, the growth was tremendous after that and the rest is history!
Has fitness always been a part of your life?
Yes! My dad was always going to the gym and spoke about how much it helped his mental state when dealing with stressful times in his life. I saw from an early age how physical activity could be a great outlet and started going regularly in high school. Then in my 20's, I started running and fell in love with it. I ran a few ½ marathons but the running was hard on my body and I looked for low impact alternatives like hot yoga, pilates and spinning. I've always loved exploring new workout trends and challenging myself to try something new. After trying so many different workouts, nothing has compared to Orangetheory. It's a great option for anyone whose focus is torching calories, burning fat, building muscle, and maintaining overall health.
If you could give one tip to fellow Mom Entrepreneurs what would it be?
Give yourself grace. As moms, we tend to feel like we're letting our children or partners down if we're focusing on ourselves. There may be times when you're so busy focusing on your career that dinner falls by the wayside, laundry piles up, or you miss some soccer games. It's OK to allow others to step in and lend support so you can chase your dreams. Life won't always be this crazy but when it gets hectic, try not to beat yourself up.
One thing people would be surprised to know about you…
I have an identical twin sister. We are "mirror image twins" since she's left-handed and I'm right handed.
Ok 10 Fun LOCAL favorites – ready, go!
1 – Favorite thing to do with your kids? Now that summer is here, we love going to the Pleasant Valley pool.
2 – Favorite coffee spot? Lucid Coffee Co.
3 – Favorite lunch place? Priscilla's Pantry
4 – Favorite farm to go fruit picking? Melick's Town Farm
5 – Favorite date night restaurant? Bistro 73
6 – Favorite boutique? Olcott Squared
7 – Favorite spot to grab a drink? Stirling Tavern
8 – Who has the best bagels in town? O Bagel in Riverwalk
9 – Best slice of pizza in town? Café Figaro
10 – Favorite spot for a cookie or cupcake? Cocoluxe
This post was done in partnership with Orangetheory Fitness Bedminster, Somerville & Montgomery. Be sure to follow Marcella and Orangetheory on social media below: