Before kids, we had all our holiday shopping done by (or shortly after) Thanksgiving. Post-kids? We sometimes find ourselves relying on anything available with overnight shipping, or online gift cards (when we're truly out of ideas). We hope this shortlist provides you with both some solid inspiration and any needed motivation to check all of the dads, moms, kids and everyone in between off your list early, and give unique gifts they'll love and use over and over.
For Kids
1. Fjallraven Kanken Art Backpack, $90
This colorful yet practical backpack is a useful gift for tweens, teens or moms.
2. Alike Kids T-shirts, $52
This gender neutral, sustainable  line is made with organic cotton and printed with non-toxic ink.
3. Banwood Bikes, $189
Balance bikes like this cute version are a great way to help your little one learn to ride naturally.
4. Gardenuity My First Garden, $98
This adorable little kit comes with everything a child needs to try out their green thumb—plants, tools and instructions.
5. The Letternest Alphabet Paintings, from $65
These customized pieces of art are something parents and kids will cherish for years, at a reasonable price point.
6. Color Your Own Wizard Cape, $32
Rainy day activity, done! Any child into wizards and magic will enjoy customizing their very own cape.
7. City Building Blocks Set, $42.50
Kids will love these simple to stack skyscrapers and parents will appreciate the non-toxic materials.
8. Mabel's Labels, from $5
Mabel's Labels Stocking Stuffers are the perfect addition to your holiday gifting! These small, personalized label packs are available in a variety of holiday-themed designs and make a great customized gift for kids, neighbors or teachers at only $5 a pack! The peel-and-stick labels are waterproof, durable and dishwasher safe, and can be used on lunch boxes, water bottles and more to ensure items don't get lost or misplaced.
9. The Phoebe Unicorn, $55
How cute is this succulent planted in a unicorn? We think any kid—or kid at heart—who is unicorn crazy will smile when they see this.
10. PunkinFutz PomPoms, $28
Whether worn on your wrist or wrapped in your hair, our colorful, soft, stretchy PunkinFutz PomPoms are perfect for quiet calming and focus in the classroom, waiting room, public events, etc.  They come in two sizes with different packaging options and make the perfect stocking stuffers!
11. Artkive Gift Card, from $75
Got kids' art piled up? Artkive make it easy to turn all that art into stunning keepsake books or a custom-framed mosaic print. Artkive will send you a box to fill with art. Send it back with the prepaid mailing label and they'll professionally photograph it all and turn it into a book proof for your review. Get started with Artkive by buying a gift card this holiday season- good for a 25-piece book! Use code TLMNHOLIDAY19 for $20 Off an Artkive Box.
12. DIY Lip Balm Kit, $40
Not sure what to buy tweens or teens? You can't go wrong with this make-your-own lip gloss set, which uses organic oils and fair trade cocoa butter.
13. Jujube Mini B.F.F. Lunchbox, $40
This awesome lunchbox featuring Legends of Azeroth will make lunchtime their favorite part of the day.
14. Razor Wild Ones, $34.99
Little ones will go wild for the new Wild Ones junior kick scooter from Razor, designed to help new riders build the balance they need to safely and confidently ride a two-wheeled scooter.
15. Razor Pocket Mod, $339.99
Cruise in style with this Euro-style inspired electric scooter. Featuring a high-performance, chain-driven electric motor and a vintage-inspired body, the Pocket Mod can reach speeds of up to 15 miles per hour.
For Dads
1.  6ixman Grooming Products
6IXMAN deliver pleasing scents (originating from Grasse, France) and performance based products while skipping harmful ingredients. They infuse oils sourced directly from Morocco to ensure quality and freshness. Whether you want to help solve beard itch and dandruff or keep a cool clean hair style all day, 6IXMAN products should definitely be on your list for stocking stuffers!
 2. Familife Stainless Steel Manicure Set, $26
This high-quality stainless steel set comes with a variety of clippers, tweezers and other tools, all in an attractive leather case, with a stocking stuffer sticker price. 
3. Traeger Pro Series Grill, $549
This durable steel grill runs on pellet fuel, giving food a cleaner taste. Plus, techies will love the digital control board.  
4. Fjallraven Ovik Fleece Hoodie, $150
He'll be super cozy in this recycled fleece hoodie, with a knitted exterior for a look that is equal parts sporty and fashionable. 
5. Filoro Grey Vest, $275
This quilted cashmere vest is both ultra-luxurious (it is cashmere, after all!) and functional. It's a perfect warm layer that can go from work to weekend outings.
 6. Herschel Bag Supply Company Novel Weekender Bag, $90
We love the classic style and rugged durability of this brand. This duffel comes with an outside shoe pocket making it a great gym bag as well as a go-to travel bag.  
7. Tretorn Sneakers, $85
This classic, retro style will go with anything and everything, and be his weekend go-to pair. 
 8. Barisieur Coffee Alarm Clock Coffee Maker, $400
This might be the most attractive programmable coffeemaker we've seen. There's a "milk vessel" that automatically chills milk (through an infrared sensor); after water is boiled it's poured over the coffee at a perfect 94 degrees. Bottom line? Ideal gift for a coffee snob.
9. Butcher Box, prices vary
These boxes of grass fed beef, heritage breed pork and organic free range chicken will be a surefire win with any carnivore. Clink link for $30 off your first box. 
For Moms
1. Ember Temperature Control Mug, $80
Give the gift of hot coffee! She can set her favorite drinking temperature, and this battery powered mug will keep it that temp for an hour (or permanently if on the warming plate).
2. Clean Origin Diamond Earrings, from $585
These three-prong martini lab-grown diamond stud earrings are the perfect gift for the stylish mom on the go!
3.  Smitten Films
Give them the gift of preserved memories, with this service that creates customized, professional edited films, using photos and videos transferred directly from your phone.
4. Fjallraven Liner Greenland Jacket, $260
This lightweight "liner" jacket is padded using only ethically produced down, and can be worn alone during mild temps or under an outer layer on the coldest days of winter.
5. Vivuvi Stone Diffuser, $122
This is a thoughtful and beautiful gift for anyone who is into (or looking to try) essential oils.
6. Revtown Jeans, $79
We are a performance denim brand that brings to mind luxury brands like AG and Joe's –  but at a fraction of the price – $79 per pair. These premium jeans are designed with the performance and comfort of an athletic pant, but with the look and feel of designer jeans.
7. Le Papier Studio Custom Silhouette Necklace, from $125
Le Papier Studio has been helping parents keep memories close since 2008. They utilize photographs to create one of a kind heirloom silhouette jewelry destined to be passed down to the next generation. Our mission is to inspire parents to see the joy in the midst of the most mundane moments, to choose present over speed living, real over rushed, cherished presents over meaningless gifts. We believe every mother, father, grandmother, bestie should own and proudly wear an heirloom, one of a kind piece of jewelry that tells a story worth remembering.
8. Glowe Maternity Leggings, $165
The GLOWE is the world's first maternity legging to offer superior support, unrivaled comfort and effortless style to keep you feeling energized and confident throughout pregnancy and postpartum. The GLOWE's Patent Pending internal bonded system provides the support of a medical maternity belt with none of the bulk, and its solution-oriented design gently cradles your bump to alleviate lower-back pain and pelvic pressure. Use code glowelocal20 for 20% OFF through Dec 23rd. Excludes Gift Cards. Cannot be combined with any other promo code.
9. Dune Jewelry Wave Stationary Necklace, $115
Dune Jewelry creates Experiential Jewelry® by capturing your most cherished memories with sand & natural elements from around the world. Dune's Sandbank® offers over 4,000 sands and locations worldwide, you also have the option to send your own memory. Think sand from your favorite vacation, childhood beach house or honeymoon; or maybe you saved some flowers from your wedding bouquet. Use code LOCALMOMS10 for 10 percent off.
10. No. 6 Shearling High Heels Boots, $400
Who says you need to suffer for fashion? Give a loved one something to keep them warm and in style this winter.
11. Sprocket Bluetooth Pocket Printer, $75
This phone sized printer turns your cellphone into a new-age version of a Polaroid camera—you can print any photo you take instantly.
12. Throw Blankets from The Whistling Elk
These beautiful, soft, elegant blankets are the perfect gift for Mom and a fashion statement for your home. They come in almost every color imaginable. Wrap yourself up in one today!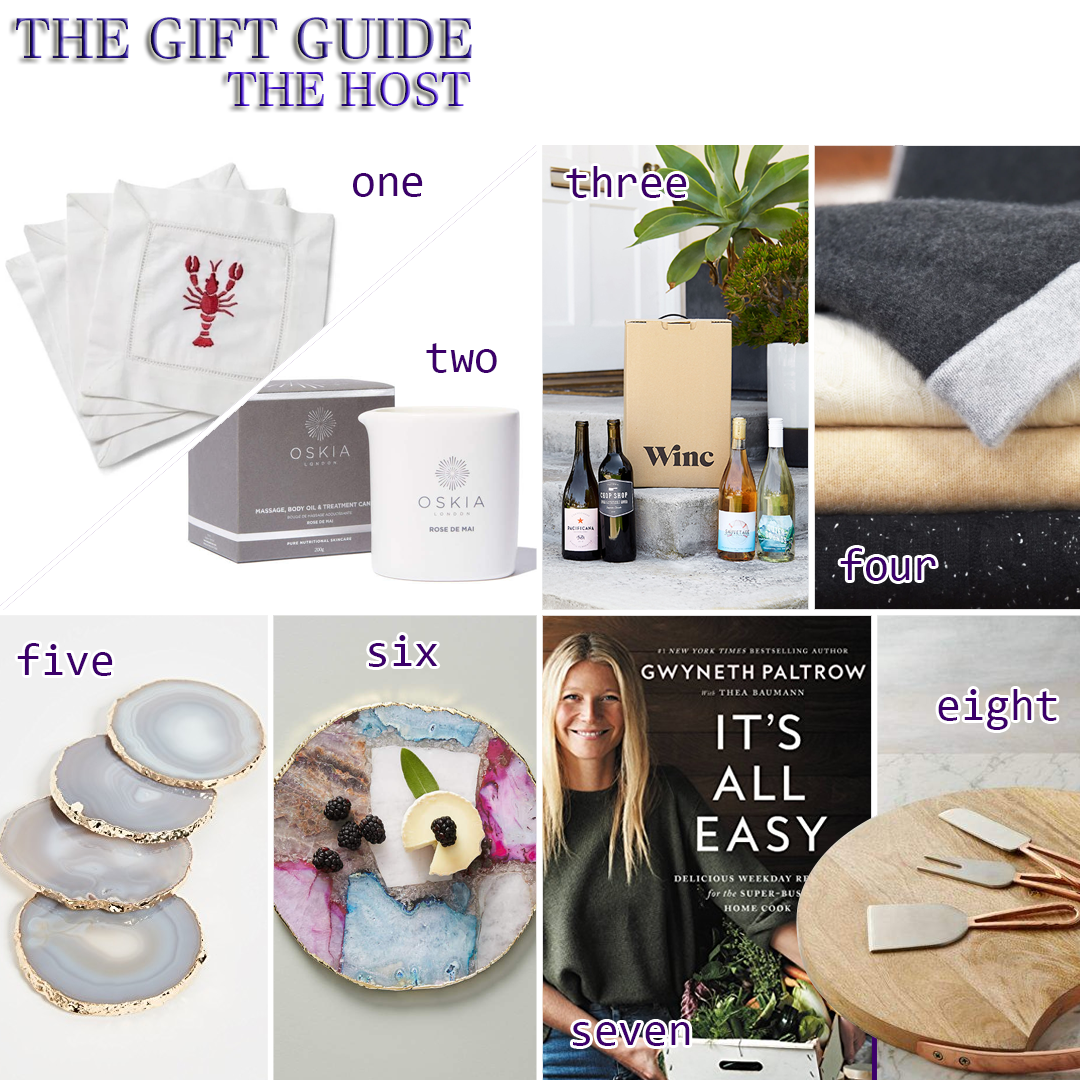 For Hostess Gifts
1. Monogram Mary, $88
We love these linen napkins from this mom-owned small business. They can be customized with your monogram and motif in a variety of fonts and colors.
2. Oskia Rose De Mai Massage Candle, $60
This luxurious candy smells fabulous and has a low melting point, so as it burns, it slowly transforms into a lovely warm (but not too hot) oil.
3. Winc Wine Subscription, from $39
Want to spend less time shopping and more time sipping? As a member of Winc, a modern wine subscription, you'll always have a bottle on hand. Simply take their palate profile quiz and they'll tailor 4 bottles to your taste preferences and deliver them right to your doorstep! Try Winc for yourself with a TLMN fan special and enjoy $22 off your first order.
4. Filoro Cashmere Blanket, from $325
These warm and elegant cashmere throws are a special gift for someone hosting your family or anyone who deserves an extra bit of luxury this season.
5. RABLABS Lumino Gilded Coasters, $175
These gorgeous coasters are a stunning gift that will be appreciated by anyone who loves throwing glam parties.
6. Composite Agate Cheese Board, $78
Every one of these bright handmade stone boards are slightly different, so you'll know your hosts won't have the same exact gift already.
7. It's All Easy: Delicious Weekday Recipes for the Super-Busy Home Cook by Gwyneth Paltrow, $20.65
Easy weeknight recipes from Goop's Gwyneth Paltrow? You'll want to stock up on these as gifts friends—but don't forgot to pick one up for yourself.
8. Crate & Barrel Cheese Board & Knives, $50
This copper and mango wood set is rustic, artisanal and offered at a price point where it might make sense to stock up on a few for last-minute dinner invites or reciprocal holiday gifts.
9. Beansprout Design Co. Custom Stationary, $15
This custom geometric apple stationery set is the perfect gift for your favorite hostess, teacher or classroom aide! Be sure to check out their Etsy Shop to see all of the other designs too! Right now use code MENDHAMMOMS19 for 10% off stationery!
For Wellness Seekers
1. The Mirror, $1,495
Give the workout fanatic in your life the ultimate fitness gadget. The Mirror brings at-home workouts to the next level, with real-time instructors, customized programs and more. Use code LOCALMOMS for $467 in savings. Includes free delivery & installation, start pack and 3 month membership.
2. Province Apothecary Healing Eczema Balm, $19
Frustrated with ineffective, harsh, synthetic products, Province Apothecary founder Julie Clark decided there must be a natural way to heal her eczema. She began studying, researching, formulating and testing raw ingredients in her kitchen and saw amazing results that she wanted to share. Thus the Healing Eczema Balm was born, and Province Apothecary became a brand recognized for its effective + natural skincare. This targeted balm is a blend of concentrated organic plant ingredients that deliver powerful relief from flare-ups of eczema, psoriasis, and rashes. Our Healing Eczema Balm is steroid-free and gentle enough for babies and anyone with sensitive skin.
3. CELSIUS Energy Drinks, TK for 12-pack
Celsius is a lifestyle fitness drink, clinically proven to accelerate metabolism and burn calories while providing healthy energy. Unlike traditional energy drinks, you will NOT experience a crash or jitters while drinking a CELSIUS. CELSIUS contains 7 essential vitamins; zero sugar, no added artificial flavors, colors or preservatives, no aspartame, no high fructose corn syrup, non-GMO and it's PERFECT for those "busy moms" who need an energy boost to get through their days.
4. Soothe Massage
Leading on-demand massage service provider Soothe (www.soothe.com) delivers a licensed, insured, and background-checked massage therapist to your home or hotel, within 60 minutes. Available in 70 markets.  Choose between Swedish, Deep Tissue, Sports and Pre-Natal massage. 60 minutes starts at $115 (price varies by city).
5. Healthy Meals Supreme
Eat delicious and healthy, save time and feel better with Healthy Meals Supreme – freshly cooked, 'culinary medicine inspired', ready-to-eat, home delivered meals and desserts. We do the shopping, measuring, nutritional calculating and cooking. You heat, eat and enjoy! There are KETO, low calorie Low Carb (Fitness) and low calorie Culinary Medicine meals and desserts. The meat is grass-fed and the fish is wild-caught.  All packaging is 'green' and recyclable.
6. Press Pause Project Gift Package, $102
This relaxing gift trio includes tea, bath bomb and body balm, all infused with high-quality CBD.
7. Saint Jane Luxury Beauty Serum, $125
This CBD and botanical-infused serum will give the gift of a winter glow.
8. ISDIN Sunscreen, $55
This cult favorite sunscreen lives up to the hype, with great protection, clean ingredients and no pasty white cast on the skin.
9. BKR Spiked London Water Bottle, $42
Made out of glass and silicone, this is a seriously chemical-free water bottle, but with a super fun exterior.
10. Sweaty Betty Contour Foil Leggings, $90
These leggings go from serious workouts to weekend chic effortlessly.
11. Rhone Bolinos Pullover Hoodie, $118
This sporty style is versatile enough for weekend lounging or casual Fridays.
12. Microdermabrasion from Ruth at All About Skin
Get your Glow back using crystal free Microdermabrasion a non-evasive method of exfoliating the facial skin. (call: 732-742-0201 to book)
13. Handmade Body Scrubs & Bath Salt Melts from Homemade Happiness by Leah
Handmade by a 15 year old Mendham based entrepreneur, these scrubs and bath salts are the best gift this holiday season! They are naturally colored with fruit & flower powders, and are formulated with essential oils! Shop them & more on the website & in select stores.